So I have a problem with Elementor Builder plugins, unable to edit it with elementor. Whenever I try to, it will always display Internal Server Error. At first I thought it was plugin crash each other, but its not work. So I try to increase the memory limit with wp.config.php but it still not work, then I thought maybe its the PHP version 7.4 so I upgrade it into PHP version 8.2
Now I'm not sure why, but it looks like after upgrading it to 8.2 the site isn't responding to my php.ini file and wp.config.php. I set the memory_limit into 512M and upload_max_size is 256M,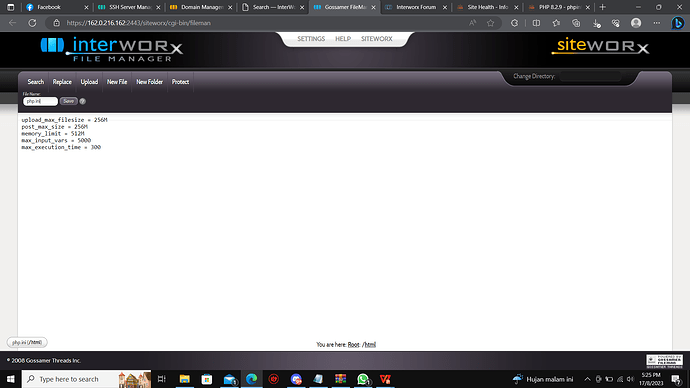 but at the site info is different.

I tried to research about it, at this doc How To: Change InterWorx PHP Ini Settings — InterWorx documentation
But I dont know where to find /etc/opt/iworx/iworxphp72/php.d/90-iworx-overrides.ini its not at file manager? then where and how do I access it?
Please help… it has been month this problem still happening, It just mention I may need to increase my PHP value. but now there is problem to change the PHP value at File Manager.
Many thanks,
Jonnathan